Call us today: 541-461-8001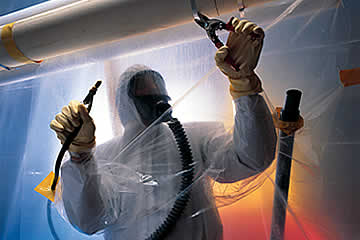 ASBESTOS
We specialize in all aspects of asbestos abatement.

Commercial settings we specialize in the abatement of boiler jackets, pipe wraps, knuckles and insulation, floor tile, floor mastic, transite cement asbestos board or asbestos cement roofing and siding, thermal asbestos insulations and more.

Residential settings we specialize in abatement of "pop corn" acoustic ceiling texture, vinyl flooring, VAT or "9x9" tile, black mastic or "cut back", boiler jackets, pipe wraps, knuckles and insulation, floor tile, floor mastic, transite or asbestos cement roofing and siding, thermal asbestos insulations and more.
AHERA Asbestos Building inspections:

We provide asbestos surveys for home owners and general contractors performing remodels to demolition work. We also provide surveys for major corporations and schools. Oregon DEQ now requires an asbestos survey to be performed on any residential remodel if the house is 1985 or older.

What Is Asbestos?
Asbestos is a mineral fiber. It can be positively identified only with a special type of microscope. There are several types of asbestos fibers. In the past, asbestos was added to a variety of products to strengthen them and to provide heat insulation and fire resistance.

How Can Asbestos Affect My Health?
From studies of people who were exposed to asbestos in factories and shipyards, we know that breathing high levels of asbestos fibers can lead to an increased risk of:
• lung cancer:

--mesothelioma, a cancer of the lining of the chest and the abdominal cavity; and
--asbestosis, in which the lungs become scarred with fibrous tissue.
The risk of lung cancer and mesothelioma increases with the number of fibers inhaled. The risk of lung cancer from inhaling asbestos fibers is also greater if you smoke. People who get asbestosis have usually been exposed to high levels of asbestos for a long time. The symptoms of these diseases do not usually appear until about 20 to 30 years after the first exposure to asbestos.

Most people exposed to small amounts of asbestos, as we all are in our daily lives, do not develop these health problems. However, if disturbed, asbestos material may release asbestos fibers, which can be inhaled into the lungs. The fibers can remain there for a long time, increasing the risk of disease. Asbestos material that would crumble easily if handled, or that has been sawed, scraped, or sanded into a powder, is more likely to create a health hazard.
The majority of people know asbestos is a very dangerous substance, but many do not understand what it is or why the mineral is bad for the body. Understanding asbestos is important because the illnesses associated with the substance can cause serious medical problems and even death. The Mesothelioma Center is an up-to-date resource for all issues ranging from asbestos exposure to malignant mesothelioma.
For more health related information please visit: Asbestos.com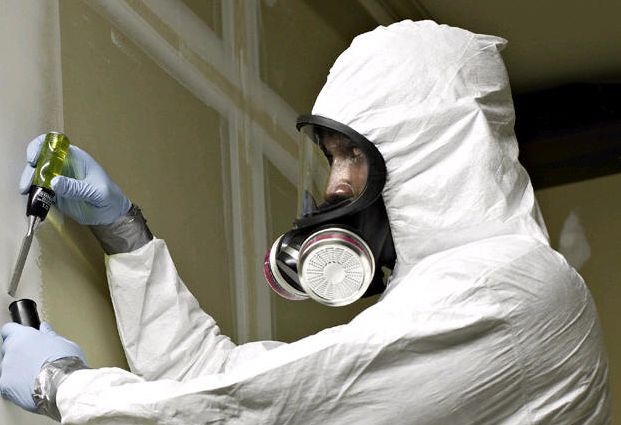 Where Can I Find Asbestos And When Can It Be A Problem?
Most products made today do not contain asbestos. Those few products made which still contain asbestos that could be inhaled are required to be labeled as such. However, until the 1970s, many types of building products and insulation materials used in homes contained asbestos. Common products that might have contained asbestos in the past, and conditions which may release fibers, include:
• STEAM PIPES, BOILERS, and FURNACE DUCTS insulated with an asbestos blanket or asbestos paper tape. These materials may release asbestos fibers if damaged, repaired, or removed improperly.

• RESILIENT FLOOR TILES (vinyl asbestos, asphalt, and rubber), the backing on VINYL SHEET FLOORING, and ADHESIVES used for installing floor tile. Sanding tiles can release fibers. So may scraping or sanding the backing of sheet flooring during removal.

• CEMENT SHEET, MILLBOARD, and PAPER used as insulation around furnaces and wood burning stoves. Repairing or removing appliances may release asbestos fibers. So may cutting, tearing, sanding, drilling, or sawing insulation.

• DOOR GASKETS in furnaces, wood stoves, and coal stoves. Worn seals can release asbestos fibers during use.

• SOUNDPROOFING OR DECORATIVE MATERIAL sprayed on walls and ceilings. Loose, crumbly, or water-damaged material may release fibers. So will sanding, drilling, or scraping the material.

• PATCHING AND JOINT COMPOUNDS for walls and ceilings, and TEXTURED PAINTS. Sanding, scraping, or drilling these surfaces may release asbestos.

• ASBESTOS CEMENT ROOFING, SHINGLES, and SIDING. These products are not likely to release asbestos fibers unless sawed, dilled, or cut.

• ARTIFICIAL ASHES AND EMBERS sold for use in gas-fired fireplaces. Also, other older household products such as FIREPROOF GLOVES, STOVE-TOP PADS, IRONING BOARD COVERS, and certain HAIRDRYERS.

• AUTOMOBILE BRAKE PADS AND LININGS, CLUTCH FACINGS, and GASKETS.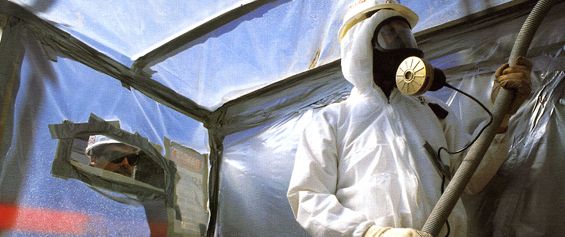 Asbestos Exposure
Most health information on asbestos exposure has been derived from studies of workers who have been exposed to asbestos in the course of their occupation. Asbestos fiber concentrations for these workers were many times higher than those encountered by the general public.
Because asbestos fibers are naturally occurring and extremely aerodynamic, virtually everyone is exposed to asbestos. To be a significant health concern, asbestos fibers must be inhaled at high concentrations over an extended period of time. Asbestos fibers then accumulate in the lungs. As exposure increases, the risk of disease also increases. Therefore, measures to minimize exposure and consequently minimize accumulation of fibers will reduce the risk of adverse health effects.

Asbestos is only dangerous if it becomes airborne. As long as asbestos containing materials are not damaged, the asbestos fibers do not become airborne and do not pose a health threat to the building occupants. During an asbestos building survey, inspectors assess the condition of asbestos containing materials. These conditions do deteriorate over time. If you find that an asbestos containing item has been damaged, please contact our office for a hazard assessment.

Asbestos Diseases
As asbestos fibers accumulate in the lungs, several types of diseases may occur. Asbestosis is a scarring of the lung tissue. This scarring impairs the elasticity of the lung and hampers its ability to exchange gases. This leads to inadequate oxygen intake to the blood. Asbestosis restricts breathing leading to decreased lung volume and increased resistance in the airways. It is a slowly progressive disease with a latency period of 15 to 30 years.

How To Manage An Asbestos Problem
If the asbestos material is in good shape and will not be disturbed, do nothing! If it is a problem, there are two types of corrections: repair and removal.
REPAIR usually involves either sealing or covering asbestos material.
Sealing (encapsulation) involves treating the material with a sealant that either binds the asbestos fibers together or coats the material so fibers are not released. Pipe, furnace, and boiler insulation can sometimes be repaired this way. This should be done only by a professional trained to handle asbestos safely.
Covering (enclosure) involves placing something over or around the material that contains asbestos to prevent release of fibers. Exposed insulated piping may be covered with a protective wrap or jacket.
With any type of repair, the asbestos remains in place. Repair is usually cheaper than removal, but it may make later removal of asbestos, if necessary, more difficult and costly. Repairs can either be major or minor.
Oregon Department of Environmental Quality Asbestos License # FSC654
Certified Supervisor for Asbestos Projects: # 11961
Asbestos abatement projects of any size: residential & commercial
Website link: http://www.deq.state.or.us/aq/asbestos/index.htm
Phone: 503-667-8414
Environmental Protection Agency AHERA Building Inspector # 10303809
Asbestos building inspection: residential, commercial & schools
Website link: http://www.deq.state.or.us/aq/asbestos/docs/AHERAInspectors.pdf
Phone: 503-667-8414
Please contact us today for your asbestos project, you may contact us by phone at 541-461-8001, or you are welcome to email us.